Profile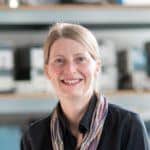 Helen O'Brien
Curriculum Vitae
Education:

Chester Catholic High School, Trinity College Cambridge

Qualifications:

Masters of Engineering, Trinity College Cambridge

Work History:

1999-2003 Schlumberger Oilfield Services, 2004 to present Space Magnetometer Laboratory, Imperial College London

Current Job:

Instrument Manager for the Solar Orbiter Magnetometer

Employer:
About Me

I am a Space Instrument Engineer at Imperial College London.

Read more

I live with my husband and 2 sons aged 5 and 7 in Wimbledon.  I'm an engineer because I like working out how things work and solving problems.

I also like modern calligraphy and gardening.

My Work

I'm the Instrument Manager for the magnetometer instrument which will fly on the Solar Orbiter satellite, flying closer to the sun than anything has gone before.

Read more

Following an Engineering Degree at Trinity College, Cambridge, I spent 4 years drilling oil wells in various locations from the North Sea to Oman and Venezuela. I started at Imperial College's Space Magnetometer Lab in 2003 working on the magnetometer (an instrument to measure the magnetic field) for a joint European Space Agency/Chinese Mission called Double Star.  Following the launch and end of this mission, I moved into more detailed instrument design work, still with magnetometers, but now trying to make our instruments smaller and more compact, which is really important for space missions.   I have worked on the magnetometer for the Bepi Colombo mission to Mercury (due to launch this year) and am the Instrument Manager for the magnetometer on Solar Orbiter – a mission I have worked on since 2007, and which is due to launch from Cape Canaveral in February 2020.

My Typical Day: Every day I am working to make sure our instrument will be ready to go into space - whether it is working through design problems with my team or talking to the European Space Agency to make sure our instrument will work well with the spacecraft.

Read more

There are lots of ingredients to a good space instrument.  It is my job to make sure we have all the right ingredients at the right time.  This means, a good, well tested design and a clear understanding of how our design will work with the spacecraft.

Most of space is a vacuum, which means it is almost empty.   But it is not completely empty.  There are a few particles around, and if you know which way the magnetic field is pointing, you can work out how these particles are behaving.  That is where our instrument comes in. It tells us the strength and direction of the magnetic field, where the spacecraft is. Our solar system is made up of the extended atmosphere of the sun, and the sun is constantly changing – it has moods and explosions. We can tell what kind of mood the sun is in by studying its magnetic field. But the sun's field out is space is quite small, and it is really cold, so building an instrument to do the job is hard.

So my day to day job is trying to make sure we keep with the allowed mass and power budget that we have, check we will survive the launch and difficult environment in space, make sure we can communicate effectively with the spacecraft, and be confident that the way our instrument behaves will not make it impossible for other instrument or spacecraft systems to work.

What I'd do with the money

Buy some lego kits to take into schools and get kids building model spacecraft

Read more

There are lots of design challenges to overcome in building space instruments, but ultimately it is great fun working out how to overcome them.  I would like to get some lego kits that help demonstrate these challenges and take them into schools so the children can find out for themselves why engineering is so much fun.
My Interview

What's the best thing you've done in your career?

Built the Solar Orbiter Magnetometer

What was your favourite subject at school?

Science

What's your favourite food?

A cream tea

What is the most fun thing you've done?

Hiked around the Torres del Paine National Park in Chile

Tell us a joke.

How do you organise a party on Mars? You have to planet :)
My profile link:
https://satellitem18.imanengineer.org.uk/profile/helenobrien/
---
---